Businesses need to step up with the growing customer demands, optimise their existing IT ecosystem and migrate to a technology that can ensure seamless customer experience which will retain customers in order to stay ahead of the complex competitive environment. Technology is constantly evolving and becoming more sophisticated, providing flexibility, cost optimisation, convenience with the latest technology for several businesses. With digital intelligence, Cloud Technology, Internet of Things (IoT) and artificial intelligence picking up the pace, contact centres are identifying the potential advantages of cloud-based centre in their particular industries. To overcome the limitations of legacy systems, growing customer behaviours, and flexible business models, contact centres are taking the leap towards automated, reliable and responsive data centres.
A large part of the call centre industry is still maintaining their critical customer data using traditional on-premise solutions. Physical software systems dominate the on-premise call centres, dedicated communication servers, headsets that are installed, configured, licensed and made compatible for their industries. The on-premise call centres have their own pros and cons. Businesses that choose on-premise call centres are responsible for the maintenance and upgrades of their software systems, IT staff. One of the core reasons for choosing an on-premise contact centre is the reliability of connection between the customers and the representatives. On the contrary, on-premise call centres also have their limitations. Strategic and budgetary decisions from setup to operational costs come into the picture while adopting them. Customer service representatives have to stick around their desks for delivering a better customer service experience, restricting the mobility of business operations. With data breach becoming a question of utmost importance, security and privacy of a large customer data become a tedious task in case of an on-premise call centre.
A report from The State of Customer Experience 2017, confirms how cloud call centres are substituting the on-premise call centres. A migration of 39% contact centres in the United Kingdom to the Cloud based and 57% chalking out an action plan to move to Cloud based call centre within the next three years. A drill down of the same study confirms that cloud-based centre have taken the apex of the infrastructure choice for a majority of organisations today fulfilling their business priorities. One of the prime reasons contributing to the success of cloud-based call centres is the speed of deployment. Others being improved profitability, optimised technology with growing customer needs and a foolproof security system.
Cloud based Call Centres
Cloud-based call centres are a network-based service in which a provider owns and operates call centre technology. Thereby providing its services remotely to businesses in a subscription model. Cloud-based call centres are offering an innovative way to approach the pitfalls of your business. They are increasingly becoming common because of the benefits of the solution made readily available as a service. Businesses continue to value cloud-based platforms as they offer features that improve customer interaction, driving customer satisfaction, as well as identifying areas within the organisation that would best benefit from the implementation of this model. Cloud contact centre software offers the tools and functionalities that are most relevant for any industry, integrated with the different software that assists in delivering a seamless customer relationship journey. In cloud-based centres, there is no requirement of hardware which ultimately eliminates the problem of maintaining the equipment and its upgrades.
Why choose Cloud based Call Centres over On-Premise Call Centres?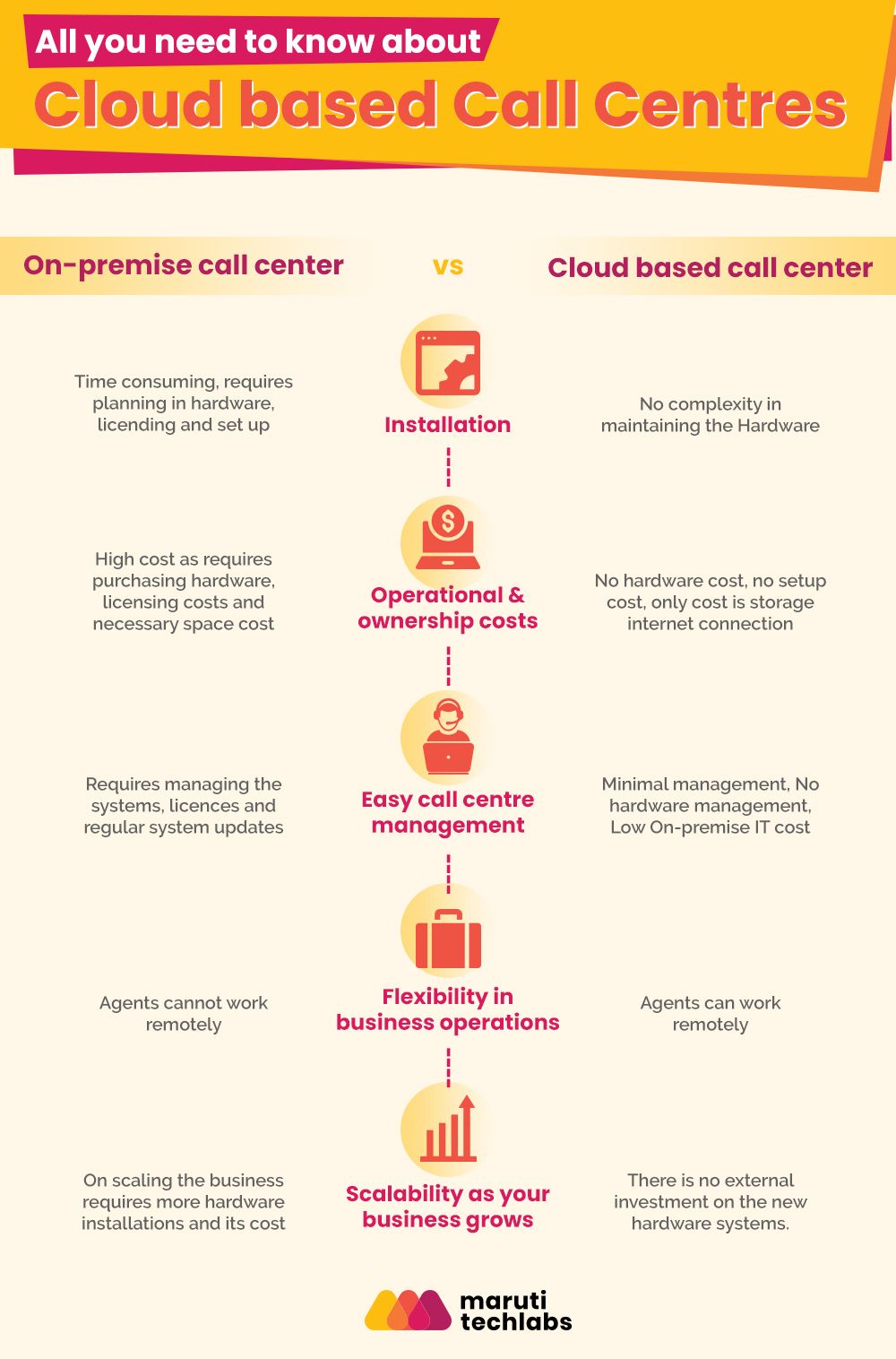 Installation
On-premise: The installation of an on-premise call centre can be time-consuming. This includes planning the necessary hardware, licensing, setting up and making the software systems compatible.
Cloud-based: The installation of a cloud-based call centre is the easiest. It doesn't require any complexity of maintaining the hardware and operates efficiently right out of the box, without any assembly.
Operational & Ownership Costs
On-premise: The cost of an onsite call centre is high. The setup costs include purchasing the hardware (servers, headsets or phone, computers, etc.), licensing, and the necessary office space for its accommodation. Apart from this, the operational costs amount to replacing the installations, due to the revolutionising technology, frequent software upgrades.
Cloud-based: As there are no massive investments in the hardware of cloud-based centres, these systems don't have substantial setup costs. The only costs that cloud-based systems require is a strong internet connection as everything is cloud-based. A cloud-based system is billed on usage basis which resonates that cloud systems only have operational expenses other than the installation costs.
Easy Call Centre Management
On-premise: With hardwired systems and software systems taking much of the call centres, managing them on a regular basis becomes a strenuous task. This includes timely regularisation of the licenses, maintaining the systems and upgrades for all the related infrastructure.
Cloud-based: The Cloud-based call centres require minimal management as the most significant burden of maintaining hardware systems is eliminated. This supports a digital engagement model while reducing on – premise IT costs and the complexity following it.
Flexibility in Business Operations
On-premises: On-premise call centres, once installed, make it difficult to customise them as the number of agents fluctuates. The flexibility in maintaining the hardware becomes an onerous task as it involves modulating your systems, licenses, headphones and much more. With on-premise systems, customer agents cannot work remotely. They have to be tied to their desks to service customer requests. This creates a hurdle in delivering 24*7*365 customer service which will result in the loss of valuable customers.
Cloud-based: On the contrary, Cloud call centre software is supple and responsive to the scalability as per the requirements. As Cloud-systems are offered on a subscription basis, adding or removing the users is as easy as deactivating a subscription. To add to the benefits, cloud-based systems allow the agents to work remotely just with the reliance on a strong internet connection, thus offering a 360-degree customer support as and when required irrespective of their geographic locations.
Scalability as your Business Grows
On-premise: As your call centre grows, it becomes necessary to scale your centres supporting the workforce. The scalability of an on-premise call centre system is sluggish as they have to invest in new hardware and architecture for a seamless operation.
Cloud-based: The cloud-based call centres offer a scalable software system where they are just dependent on data servers. There is no external investment on the new hardware systems.
Reliability over your business systems
On-premise: One of the vital advantages that on-premise has over cloud-based systems is the quality of the call. However, the downside to that is in the case of a physical breakdown of systems, it affects the overall performance of the call centres.
Cloud-based: Cloud-based call centres are reliant on a strong internet connection. So, a robust internet link for seamless customer service will support your business activity.
Benefits of Cloud-based Call Centres
Cloud-based call centres are a part of the organisational plan of those who believe in high profitability by improving operational costs and quality of the customer service. Organisations are taking the step to focus on streamlining technology to benefit customers by creating a profitable customer engagement hub under low infrastructure costs. The key benefits of a cloud-based call centre are as follows: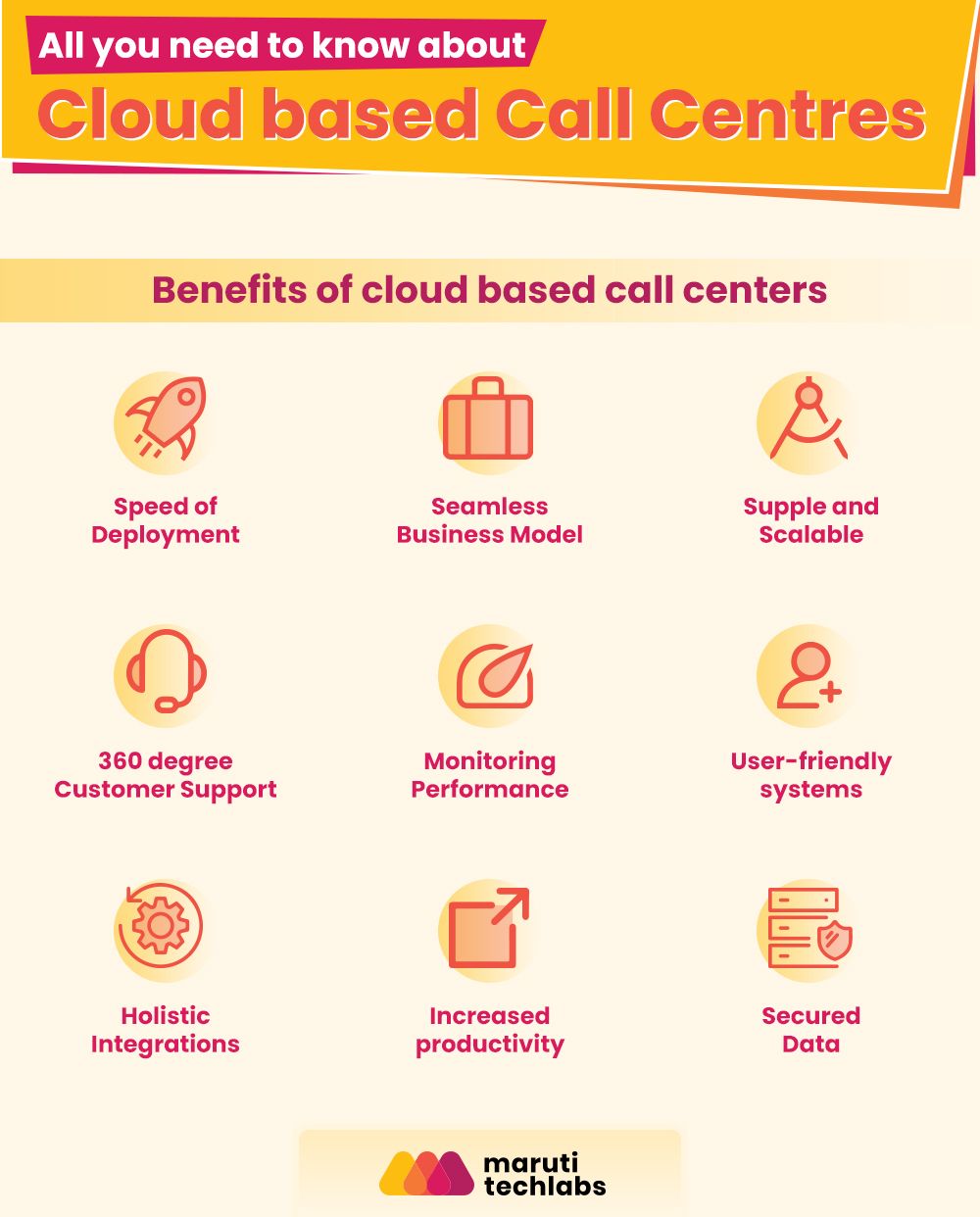 Speed of Deployment – Cloud-based call centres being hardware free, the implementation of such systems is quick, and there is no hassle in the setup procedures in your business environment.
Seamless Business Model – The use of cloud-based call centres allows users to seamlessly access systems with the help of an internet connection and deliver high-level customer experiences anywhere anytime.
Supple and Scalable – As per the requirement of different business, the Cloud-based call centres can be scaled for their business operations.
360 Degree Customer Support – Cloud call centres being made available anytime anywhere, agents can respond to customer inquiries.
Monitoring Performance – With cloud-based contact centres, businesses can focus on efficient agent performance, which will lead to high productivity and quality levels of service.
User-friendly systems – Cloud-based solutions lead the way with easy to use and user-centric design, providing users with advanced technology lauded with benefits. This allows call centre agents to benefit from enterprise level functionality without the hassles of arduous training on outdated systems and daily usability struggles.
Holistic integrations – Call centres typically rely on multiple software systems that include Customer Relationship Management, call script generators and helpdesk tickets. Integrating the data of these systems to your traditional call centre system can be a tedious process. Cloud contact systems offer one-click integrations with dozens of leading business tools. This results in an enriched agent experience reducing data redundancy and maximising efficiency and productivity. With a holistic integration system, decision makers can access multiple systems from a single location increasing their data-driven decisions.
Increased Productivity – Cloud-based contact centres offer enhanced call monitoring process. Agents can work with a single, integrated dashboard by cloud-based technology taking effective decisions reducing agent turnover.
How to choose the right Cloud-based Call Centre for your Business
A myriad of cloud contact centre solutions is available on the market. However, enterprises need to evaluate various selection criteria while choosing a cloud-based contact centre. These include assessing the technology, vendor positioning and the targeted customers.
Technology: Enterprises need to identify the gap in their existing business strategy that creates a roadblock in delivering a seamless customer service. This includes identifying the hardware, routing, applications and workforce to manage the technology. Enterprises should also ensure a record of critical data sources that can be integrated with the new solution. Most importantly, businesses need to find a solution that will enable them to measure the successes and failures of their customer service organisation.
Vendor Positioning: Enterprises need to be strategic to find a robust cloud offering that understands their business requirements and goals. The cloud-based call centres should match their strategic roadmap in customer service and customer experience. Vendors should help educate enterprise and provide multichannel capabilities as they become available with version upgrades.
Realistic Strategy for your Customers: As technology is growing day by day, several businesses are engaging with cloud contact centre solutions to obtain a better picture of a cloud offering and make more informed decisions on critical data. Customer experience is becoming a top priority for organisations as they have understood the basic that "the customer is the king". This has necessitated the need for quality service to retain existing customers and improve customer loyalty.
The Final Cut for the Shift in Call Centres
Today's business demands agile technology supported with responsive decision making. This results in enhanced customer service to stay ahead of the competitive clutter. Cloud contact centres have become the face of the enterprise for customers. It has become a necessary step for companies to adopt a systematic approach that enhances performance, channels support and engagement, reporting and analytics to successfully support a customer base where customer preferences keep changing. The cloud contact centre solution provides a level of agility and transformational qualities that facilitate these objectives if leveraged strategically. Cloud-based contact centres are architected for high availability. As a result, customers will experience higher uptime, leading to reduced customer service issues and better ROI. The challenge for enterprises is in choosing the right cloud contact centre solution and strategic partner to achieve these goals. Hiring a reliable and experienced IT services & staff augmentation company can help in moving your call center to the cloud without any glitches.